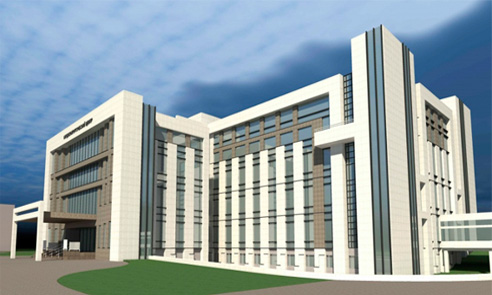 The construction project of Cardiac Surgery Center
In January 2014, an investment memorandum was made between the Government of Samara oblast and "Sovremennye medicinskie technologii", stating that the construction project of the new medical institution "Cardiac Surgery Center" will be carried out on the principles of private public partnership.
"Cardiac Surgery Center", being a separate legal entity will carry out close mutually beneficial cooperation with existing Samara Regional Clinical Cardiology Hospital. Allocation of the new center near SRCCH (Aerodromnaya street, 43) will allow to use innovative medical technologies of the Centre and scientific and practical experience of Cardiology Hospital, that will provide high-quality and efficient provision of medical services in the field of cardiac surgery in order to improve health and reduce the death rate in the Samara region and Russia in total.
New Cardiac Surgery Centre will provide high-tech medical care for patients with cardiovascular diseases not only from Samara, but also from the region. The relevance of this project is caused by the high death rates of population in Russia due to diseases of the cardiovascular system. It is important to note that the center will provide cardiac and cardiac surgery medical care for patients under the program of compulsory health insurance.
At the moment the construction works are at full speed. The building permission was obtained on November 21, 2014. The construction works are being carried out beginning from this moment.