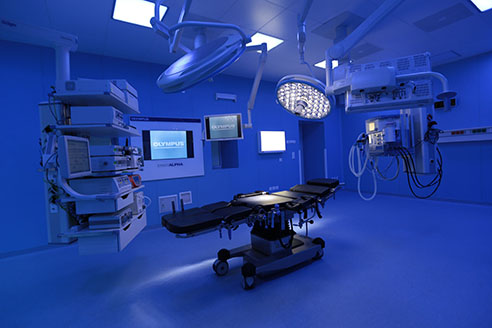 Olympus integrated surgery project in SRCH n.a. Seredavin
On October 23, 2013, an opening ceremony of OLYMPUS integrated surgery was held in Samara Regional Clinical Hospital named after Seredavin. Universal integrated surgery was designed, built and equipped as a gift to SRCH named after Seredavin by the companies "Medline" jointly with "Sovremennye medicinskie technologii".
The new surgery is equipped with advanced technology to meet the highest requirements of modern medicine. Implemented here the concept of system integration EndoAlpha, developed by Olympus, is designed to bring the surgery functioning and the treatment process in whole to a new level of efficiency. Modularsystem EndoAlpha - universal complex integration solution for all types of endoscopy as well as endoscopic and open surgery. It allows optimizing the organization and storage of information, communication between professionals, surgery space ergonomics, as well as reducing the time needed for the surgery preparatory stages.
The main principle characteristic of the surgery is its versatility. The technical capabilities of the new surgery cover a wide range of surgical procedures in various areas of medicine. A set of equipment allows to conduct a full range of laparoscopic and thoracoscopic endosurgical operations, carriy out hysteroscopy, nephroscope, cystoscopy and transurethral resection of the prostate in urology and transcervical endometrial resection in gynecology, including bipolar method with using physiological solution of NaCl. In addition, surgery equipment permits to conduct laparoscopic operations using a single access technology (LESS), designed to minimize the cosmetic defects from surgical procedures.
Centralized management of used equipment parameters: medical (video system, the RF unit, insufflator, surgical pump.) and peripheral (operating table, operating lamp, general lighting) is carried out by means of two overlapping touch panels designed for the doctor and the operating health sister;
Ability to save hardware settings according to the preferences of each surgeon, making the standard settings for each particular type of surgical intervention makes available training operating with just a few touches to the touch screen;
Existence of the special original interface for managing all types of data (creation of a database of patients, creation of patient records, record photos and video, the use of storage and transmission of images PACS), gives professionals the opportunity to save data produced by ultrasound, MRI, CT, share them and bring them to the selected monitor, located in the operating room;
Ability to organize HD videoconferencing, both within the medical institution and outside it;
Location of equipment on overhead consoles maximizes the efficient use of space to improve the convenience of the interaction of all members of the surgical team, modify its configuration as necessary, due to the characteristics of the surgery.
Medical equipment, delivered within the project:

Console endoscopic, ceiling Movita Draeger (Germany)
Console anesthetic, ceiling Movita Draeger (Germany) with attachment for anesthetic machine
Console anesthetic, wall Linea Draeger (Germany) (operating and anesthesia)
Anesthesia apparatus FABIUS TIRO f.Draeger (Germany) with accessories
Ceiling operating light Polaris Draeger (Germany) with built-in HD camera and a mount for monitor
Operating Table MARS TRUMF (Germany)
Tools and equipment for Olympus endosurgical interventions
Equipment for system integration Olympus